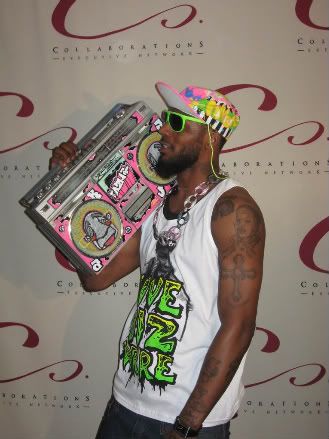 The Wizards are 4-20 right now, and they have the worst record in the Eastern Conference. It's pretty hard to believe that -- only four wins.
Yet the Wizards still play hard but find ways to lose winnable games. Antawn Jamison and Caron Butler have both been their usual selves; they both can score plenty of points and rebound, but neither can be called a defensive stopper by any means. Andray Blatche is actually playing better since Eddie Jordan got fired, and young guys like JaVale McGee, Dominic McGuire, and Nick Young have all shown glimpses of how they can significantly contribute down the road. And even though no one knows how good he can be, Javaris Crittenton could eventually turn into a serviceable young point guard to spell Arenas when/if he ever comes back. Hopefully Crittenton has a chance to play more as he becomes comfortable with the offensive and defensive schemes.
Mainly, Tapscott has done one thing well as interim head coach: play Blatche more. Blatche, who has now played more than 30 minutes four games in a row and started the last three, is averaging more minutes per game (23.7 to 16.9) and more points per game (11.5 to 6.7) in the 13 games under Tapscott. He's far from consistent, but Blatche actually appears to be improving each time he steps on the floor. More importantly, the Wizards have played better with Blatche in the game; he's the only player who plays consistent minutes with a
positive +/- number
at +14.
Unfortunately, Tapscott refuses to stop playing DeShawn Stevenson so many minutes. Stevenson is shooting 32.0 percent from the field and 28.6 percent from three-point range, yet he plays 29.7 minutes per game and also starts every game. Consider this: Out of 44 shooting guards who have enough three-point attempts to qualify, Stevenson is ranked 42nd. If he was just shooting a few a game, it wouldn't be a big deal; instead, of those same 44 players, Stevenson ranks 10th in three-pointers taken per game (4.7). So not only is he shooting a horrible percentage, but he also refuses to stop chucking them up. (Here's an idea:
Remove hand from face -- then shoot.
)
I'm not trying to blame Stevenson for the Wizards' 4-20 start by any means. Right now, they're just a bad team. But Stevenson shouldn't be playing more minutes than Nick Young, who is averaging more points (9.8) and a better field goal percentage (43.1) in 8.3 fewer minutes per game. Young isn't a good defensive player, but Stevenson isn't exactly Ron Artest either. When was the last time you watched a game and said, "Man, Stevenson is really locking his man down!" Probably never.
Watching Stevenson brick a bunch of shots on a four-win team isn't exactly thrilling. At least giving Young, McGuire, and McGee more minutes would give Wizards fans something to get excited about.