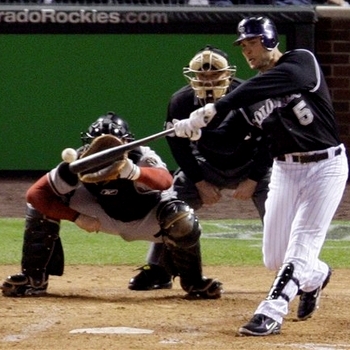 The A's made a surprising move today by
dealing
for the Rockies' Matt Holliday. While the deal has not yet been finalized, the A's appear to have acquired the power hitting Holliday in exchange for pitchers Greg Smith and Brett Anderson and outfielders Ryan Sweeney and Carlos Gonzalez.
The trade is interesting on a number of levels:
1) Billy Beane actually traded for a superstar in the prime of his career instead of trading one away.
2) Holliday only has one year left on his deal, and the A's rarely give out big money.
3) The Rockies managed to pull off the deal; many figured they wouldn't get it done.
This Sporting News article
also does a great job of explaining the motives for the move and the possibilites for what the A's may do with Holliday during the 2009 season.